CNN town hall on Russia's war in Ukraine
February 24, 2023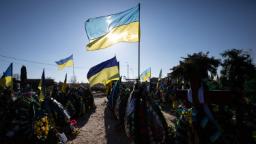 China released a 12-point document Friday detailing its position on the war in Ukraine. In it, the country called for the end of hostilities and the resumption of peace talks.
In the online paper titled "China's Position on the Political Settlement of the Ukraine Crisis," the country's Ministry of Foreign Affairs pledged that China will "continue to play a constructive role" in the resumption of peace talks, but provided no additional details. 
Each point is followed by a paragraph explaining China's position, but provides no concrete proposals as to how the points should be achieved. 
Here's what those 12 points are:
Respecting the sovereignty of all countries
Abandoning the Cold War mentality.
Ceasing hostilities. 
Resuming peace talks. 
Resolving the humanitarian crisis. 
Protecting civilians and prisoners of war (POWs).
Keeping nuclear power plants safe.
Reducing strategic risks. 
Facilitating grain exports.
Stopping unilateral sanctions.
Keeping industrial and supply chains stable.
Promoting post-conflict reconstruction. 
For context: Prior to the release of this document, US officials have said China could be preparing to provide lethal military aid to Russia. US Defense Secretary Lloyd Austin said he had not yet seen China do so, but that China "hasn't taken that off the table for sure."
"I've engaged my counterpart early on and told him that this would be a very bad mistake if China were to do this. It would complicate things," Austin said.